One sign that we have stumbled a step closer to it will be sharp declines in the value of money, especially in previously highly-reliable currencies such as the Euro and dollar. We can expect to see this partly as confidence in these currencies falls in the wake of stimulus packages designed to pump money into the economy.
As this happens, investors will seek safe-haven investments as an alternative to stocks and bonds in fragile businesses and to unreliable and rapidly-deprecating cash.
However, we can also expect a resurgence of interest in commodity money: money whose value is intrinsic and cannot be altered from above or outside. The requirement for money will be as great as ever — exchange must continue. And where investors are interested in money for its value-storing function, the majority of people are more concerned with exchange; with getting paid and paying. Hyperinflation becomes truly damaging when it happens so fast that your paycheck loses value on the way to the store.
Signs of a surge in the relative value of gold are already detectable, as the dollar's value falls and gold rises.
As much business now takes place online, and much more requires higher fungibility than can be supplied in franked precious metals, we can expect to see much of this renewed interest in precious-metal commodity money taking the form of uptake of stablecoins.
Tokenizing commodity money
Isn't tokenizing commodity money the same thing as issuing paper money backed by gold or silver?
Not quite.
Paper money's relationship with its gold backing is guaranteed by the government, not by something intrinsic about the paper. This was true throughout the history of gold money too; successive emperors adulterated the Roman coinage, creating a disconnect between gold and face value and leading to periods of economic instability. It's this capacity of value guarantors — whether franking on a gold coin or writing on paper money — to be manipulated to the detriment of currency value that makes fiat and representative currencies unstable.
By contrast, tokenization might involve representation — a digital pattern represents a quantity of gold — but the representation is inherent to the digital pattern. It can't be changed by a central authority. Like gold, it is its own guarantor.
Here's how they're usually set up.
Typically, a token backed by a commodity, referred to as a stablecoin, will be set up with a traditional custody and trust structure managing the underlying assets. Trustees are regulated financial professionals who manage assets, while custodians arrange for secure holding, whether themselves or through third parties. Trusts are audited by third parties, and in an additional layer of protection, tokens are issued on a public blockchain that's transparent, unhackable and automatically preserves immutable audit trails. The tokens issued represent a legal claim on the trust's contents — ownership in a certain sum of gold. Tokens are proof of ownership, not a promise to pay.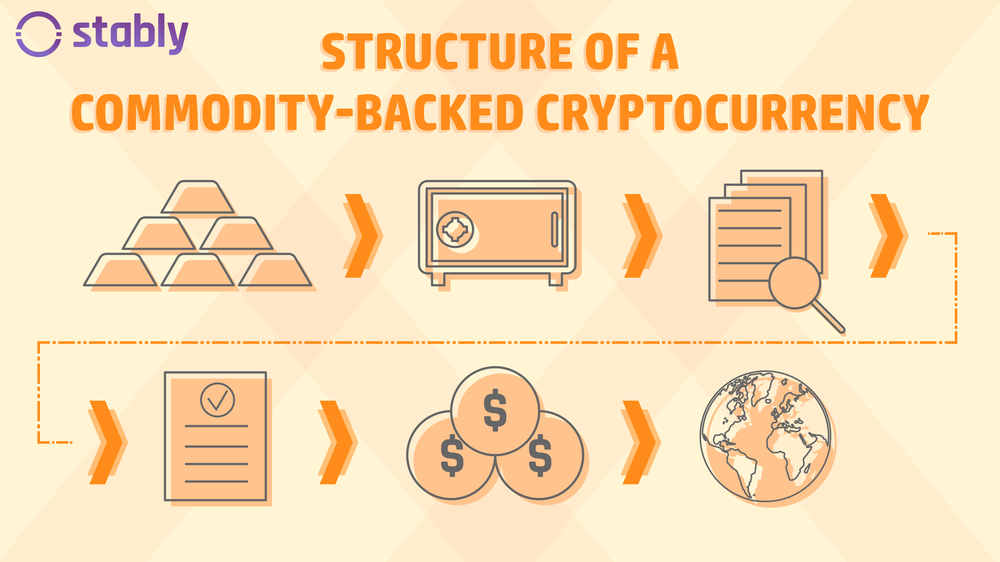 This might be best explained by Jim Manning: